The Historic Babcock building's cupola restoration project and ceremony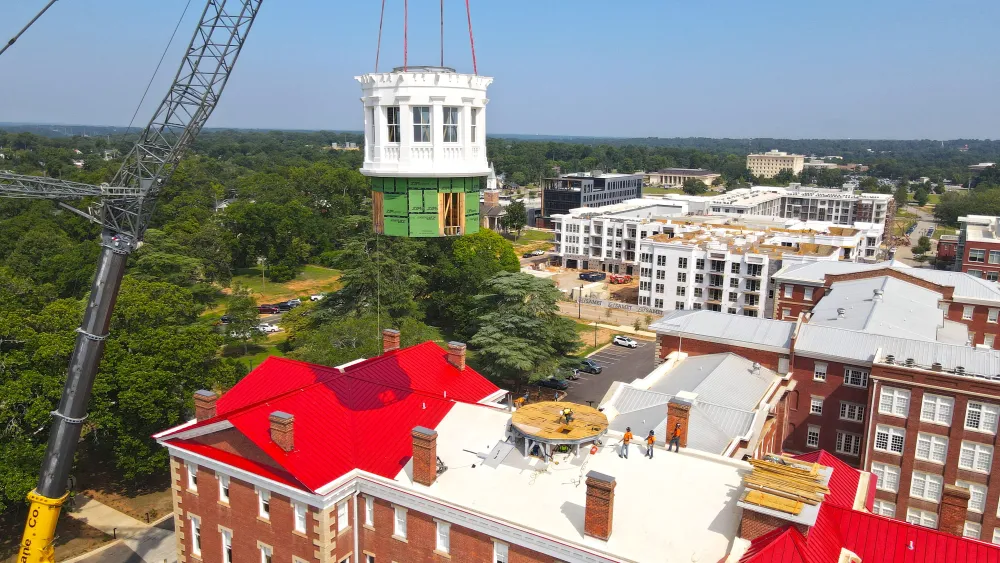 By Samantha Robertson, COLAToday
The Babcock building, a beacon of Columbia's history since the late 1800s, is reclaiming its iconic skyline status. Clachan Properties and proprietors hosted a ceremony yesterday to commemorate the Babcock building's cupola restoration + reinstallation.
The 254,000 sqft, Nationally Registered property has now been transformed into 208 studio, one, two, and three-bedroom apartments, showcasing over 100 different layouts. The cupola puts the cap on an almost decade-long restoration process.
The new red spire sitting outside of the Babcock building waiting to be signed by officials. | Photo by COLAtoday team
The project
In case you didn't know — this project is part of a 20-year plan for the 181-acre BullStreet District. Hughes Development Corporation secured ownership and renovation rights for the historic Babcock building through agreements with the South Carolina Department of Mental Health and the City of Columbia.
The renovation commenced in 2015 under the stewardship of Clachan Properties. Despite challenges, including several fires + deterioration, construction began in 2020.
The structure is now a 208-unit apartment complex and its reinstated cupola + spire is a symbol of the project's completion.
Gov. Henry McMaster, Mayor Rickenmann, and other officials signing the spire. | Photo by COLAtoday team
The structure
The reassembled cupola, spanning from its steel base to the finial on its spire, will rise to about 66 ft in height upon installation and is comprised of three main segments:
The spire: 18 ft, 2.25 inches
The dome: 21 ft, 3 inches
The clerestory: 25 ft, 4 inches
The ceremony
Key highlights of the ceremony included speeches from developer Bob Hughes, Gov. Henry McMaster, Mayor Rickenmann, former mayor Steve Benjamin, and Robin Waites — the Executive Director for Historic Columbia. Gov. Henry McMaster presented Bob Hughes with the Order of the Palmetto — SC's highest civilian honor.
The end of the spire that will fit into the cupola and sit atop the Babcock Building was signed by those in attendance, including elected officials, business leaders, and community influencers.
At the end of Bob Hughes' speech, he concluded with the idea that "change takes perseverance, commitment, belief, courage, and a little stubbornness. He encouraged those in attendance to "keep the faith, the commitment, the courage, and the ideas coming."