REI Co-Op to Open 20,000 Sq. Ft. Store in Columbia's BullStreet District
REI Co-op announced plans to build a 20,000 sq. ft. store in the BullStreet District in downtown Columbia, South Carolina, bringing a wide assortment of quality outdoor gear, experiences and expertise to the district.
Read The State's online story here.
South Carolina's first urban gigabit community, the BullStreet District is known as the largest urban redevelopment project on the East Coast. The growing lifestyle district is located one mile from the State House, the University of South Carolina and the Main Street District.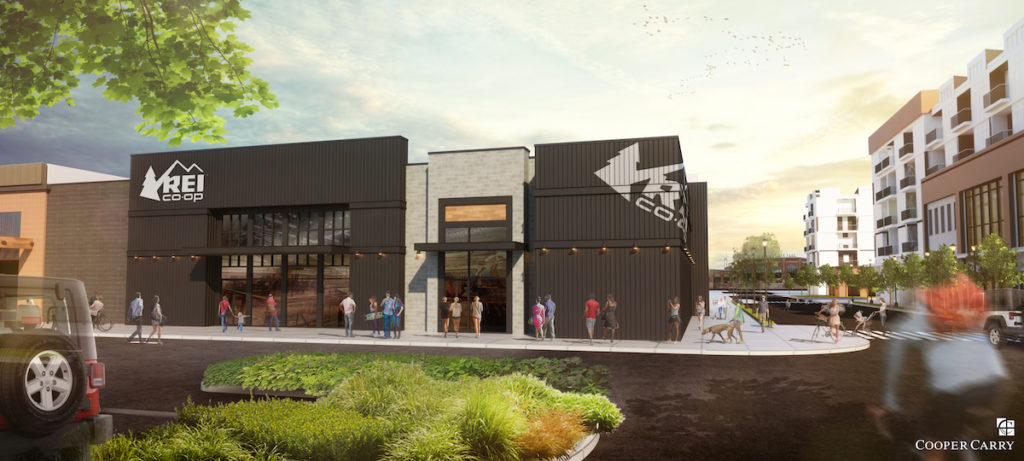 REI's move to the district is a major step in fulfilling the new urbanist vision for the area as a walkable entertainment district with a mix of restaurants, retailers and public spaces.
REI Columbia will be the second South Carolina location for the national retailer, with plans to open in Spring 2020 near the northwest corner of the district, at the intersection of Bull Street and Freed Street, one block from Colonial Drive. During the construction of REI's store, Freed Street will be reconfigured to better connect Bull Street to the entry plaza of Segra Park. The store will be designed by Wakefield Beasley Architects in Atlanta and built by McCrory Construction of Columbia.
The more than 80-year-old Seattle-based company will offer quality outdoor gear in addition to workshops that will connect people to a life outdoors. A national leader in outdoor experiences, REI helped more than 350,000 people across the country get outside through classes and events last year. With BullStreet's central location amongst Columbia's downtown districts and situated near key access points for 277 and 126, both Midlands residents and South Carolinians statewide will have access to REI's goods and services.
REI currently has 154 stores in 35 states and the District of Columbia. Its other South Carolina store is in Greenville, which opened in 2011.
REI has been recognized as one of Fortune magazine's "100 Best Companies to Work For" list for 22 consecutive years.
"REI Co-op is exactly the kind of retailer that our 20-year development plan envisions with a dynamic mix of residential, retail, restaurant and recreational uses," said Robert Hughes, president of Hughes Development Corporation and master developer of the BullStreet District. "REI is on the cutting edge of lifestyle retailing that promotes the love of the outdoors, which our region embraces. The company is known for providing top quality goods and services for the outdoors, and for putting an emphasis on giving back to the community in many ways. Their consistently high ranking for their workplace environment says volumes about their core values."
The BullStreet District, Columbia's development of the Three Rivers Greenway and growing enthusiasm for celebrating the outdoors were important attractions for the company. The BullStreet District's plans for daylighting Smith Branch Creek and constructing a 20-acre public park, planned to open later this year, will both compliment REI's new location.
"We are thrilled to add Columbia, South Carolina to our growing list of new locations in the South. This vibrant community is known for its incredible access to cycle and paddle opportunities," says Gail Kirkland, REI retail director for the South. "We look forward to joining the community and further connecting our local members to the outdoor places they love."
"The progress made in the BullStreet District within the first five years of a 20-year buildout plan is remarkable," said Columbia Mayor Steve Benjamin. "We welcome REI Co-op to Columbia as the first of many retail partners that will add to our city's growing vitality in so many ways. REI's history as a good corporate partner is impressive, and we look forward to working with them."
As a co-op, protecting wild spaces and investing in spaces for outdoor recreation is a key part of REI's mission. The co-op annually gives back nearly 70 percent of its profits to the outdoor community. In South Carolina, REI invested a total of $12,000 in the Anne Springs Close Greenway in York County and the Foothills Trail Conference in the upstate. As REI gets closer to opening in Columbia, the co-op plans to invest further in the local outdoor community in the Midlands and surrounding regions.
With the new BullStreet location, Midlands residents will have local access to REI's selection of the best gear for the region's most popular outdoor activities including hiking, cycling, camping and paddling.
While anyone may shop at REI, members pay $20 for a lifetime membership and share in the company's profits through an annual dividend. There are more than 122,000 lifetime REI members in South Carolina. REI is a member-owned co-op, founded in 1938 and dedicated to inspiring, educating and outfitting its members for a lifetime of outdoor adventure and stewardship.
Jobs at REI Columbia in the BullStreet District
In 2020, REI expects to hire nearly 45 employees at the new store in Columbia. Candidates interested in joining the REI team at any local store can apply online at REI.com/jobs. New employees will receive a wide variety of benefits, including generous product and service discounts, competitive pay and retirement contributions. REI employees also enjoy unique perks, like two paid "Yay Days" that allow them to enjoy their favorite outdoor activity and an additional paid day off on Black Friday to #OptOutside with family and friends.
Learn more about REI at http://www.rei.com/ and visit the BullStreet District website at https://bullstreetsc.com.
About the BullStreet District
Known as the largest urban redevelopment project on the East Coast, the BullStreet District is an active transformation of the historic, 181-acre South Carolina State Hospital campus into a vibrant, mixed-use lifestyle district that reflects the authenticity of downtown Columbia, S.C. The state's first urban gigabit community, BullStreet is a city-within-a-city, located one mile from the S.C. State House and anchored by the award-winning stadium, Segra Park (f.k.a. Spirit Communications Park), home of the Columbia Fireflies Minor League Baseball team. Well into a 20-year buildout that started in January 2015, the district already is home to an array of local and national businesses, including global tech giant Capgemini, Central Carolina Community Foundation, Founders Federal Credit Union and Ogletree Deakins law firm in the First Base Building; SOCO, COLAToday and tech/creative startups in the historic Bakery; Bone-In Barbeque restaurant in the historic Ensor Building; the S.C. Department of Natural Resources' Parker Annex Archaeology Center; the sleek, modern Central Energy event venue; and the new TownPark at BullStreet townhomes. Soon, the Merrill Gardens active senior community will open across the street from a new 20-acre public park, with a 2-acre pond, trails, dog park, restored creek and more. BullStreet contains 125,000+ square feet of commercial/office and retail space and is zoned for up to 3.3 million square feet of commercial use and 3,558 residential units. Follow @BullStreetSC and #BullStreetSC on Twitter, Instagram and Facebook, and learn more at https://bullstreetsc.com.
Website: https://bullstreetsc.com
Facebook: The BullStreet District, Columbia, S.C., http://www.facebook.com/BullStreetSC
Twitter: @BullStreetSC, http://www.twitter.com/BullStreetSC
Instagram: @BullStreetSC, http://www.instagram.com/BullStreetSC
Hashtags: #BullStreetSC #BullStreet
Contact: info@bullstreetsc.com, 844-285-5787
About REI Co-op
REI is a specialty outdoor retailer, headquartered near Seattle. The nation's largest consumer co-op, REI is a growing community of more than 17 million members who expect and love the best quality gear, inspiring expert classes and trips, and outstanding customer service. REI has 154 stores in 35 states and the District of Columbia. If you can't visit a store, you can shop at REI.com, REI Outlet or the free REI shopping app. REI isn't just about gear. You can take the trip of a lifetime with REI Adventures, a global leader in active adventure travel that runs more than 170 custom-designed itineraries worldwide. The REI Outdoor School is run by professionally-trained, expert-instructors who teach beginner-to advanced-level courses about a wide range of activities. To build on the infrastructure that makes life outside possible, REI invests millions annually in hundreds of local and national nonprofits that create access to—and steward—the outdoor places that inspire us all.