Starbucks Announced for the BullStreet District
A third national business is headed to Columbia's newest downtown destination
November 1, 2019 (Columbia, S.C.) – If you drive by the massive, 181-acre BullStreet District — known as the largest urban redevelopment project on the East Coast — you can see that big changes have been taking place this season. After retailer REI Co-Op was announced in March, and a major feature was published by The New York Times about BullStreet in July, good news has continued to snowball across the growing downtown lifestyle district.
At least six work crews are busy prepping sites, roads and buildings, from site clearing for the future University of South Carolina Health Sciences Center and pouring slab for the new REI Co-Op store to doing final prep for the 20-acre public park. Meanwhile, a new national retailer is joining the district, the Babcock Building is rolling steadily toward its imminent renovation, and more.
Starbucks with Patio and Drive-Through at BullStreet
The iconic Seattle-based coffeehouse, Starbucks, is coming to the BullStreet District, scheduled to open in the spring of 2021. The 2,500 sq. ft. stand-alone building, featuring a drive-through and outdoor seating, will be located adjacent to the 20,000 sq. ft. REI Co-Op building now under construction at the intersection of Bull Street and Freed Drive. Starbucks will front Bull Street, where 42,000 cars pass by each day.
"One of the most frequently asked questions we receive from the neighborhoods is about whether BullStreet is getting a Starbucks," said Robert Hughes, president of Hughes Development Corporation, the master developer of the BullStreet District. "I'm happy to report that Starbucks is coming, and it will be positioned perfectly to accommodate commuters as well as those who live and work in and near the district."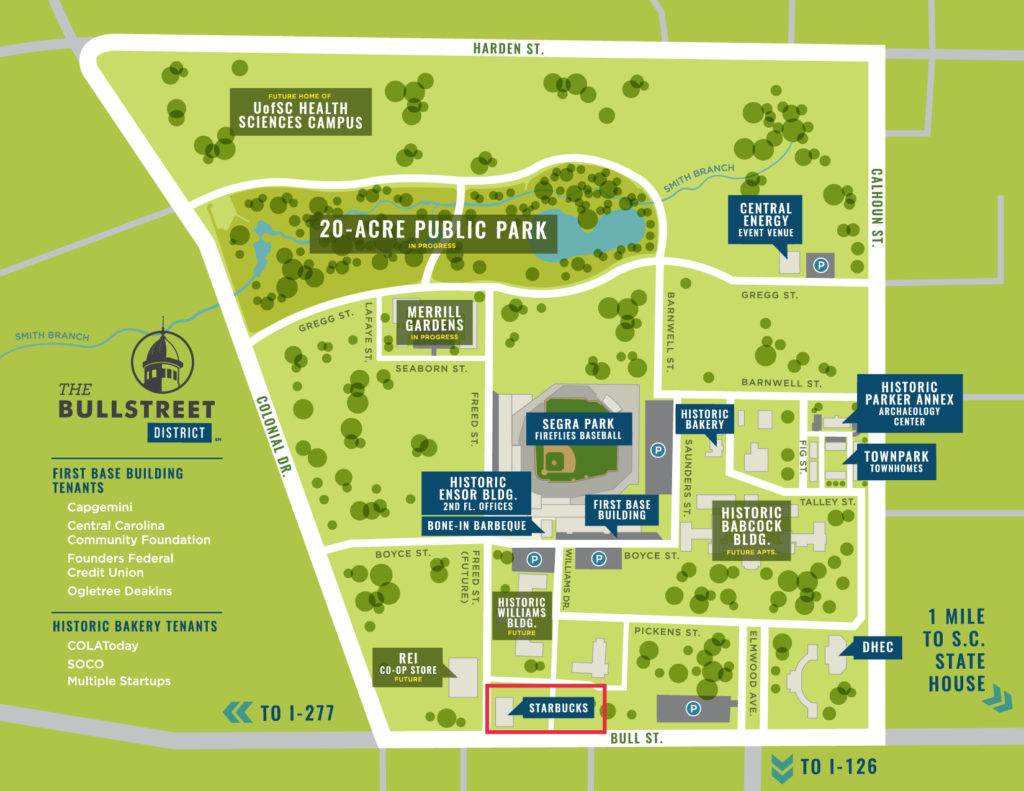 The traffic signal at Bull Street and the street currently known as Williams will be completed before the opening of Starbucks. Freed Drive currently connects Bull Street to the entry plaza of Segra Park, but the road is being reconfigured with the construction of the REI Co-Op store. The outer shell of the 20,000 sq. ft. REI Co-Op building on Freed Drive will be completed in January, at which time REI will begin upfitting the interior with scheduled opening in late spring of 2020.
"It is remarkable that The BullStreet District is already getting nationally known brands such as Starbucks, REI Co-Op and Capgemini within five years of a 20-year plan," said Columbia City Councilman Howard Duvall. "We're converting a huge, deteriorating and desolate property into a growing and vibrant community that's creating jobs, contributing to the tax base and adding immeasurably to the region."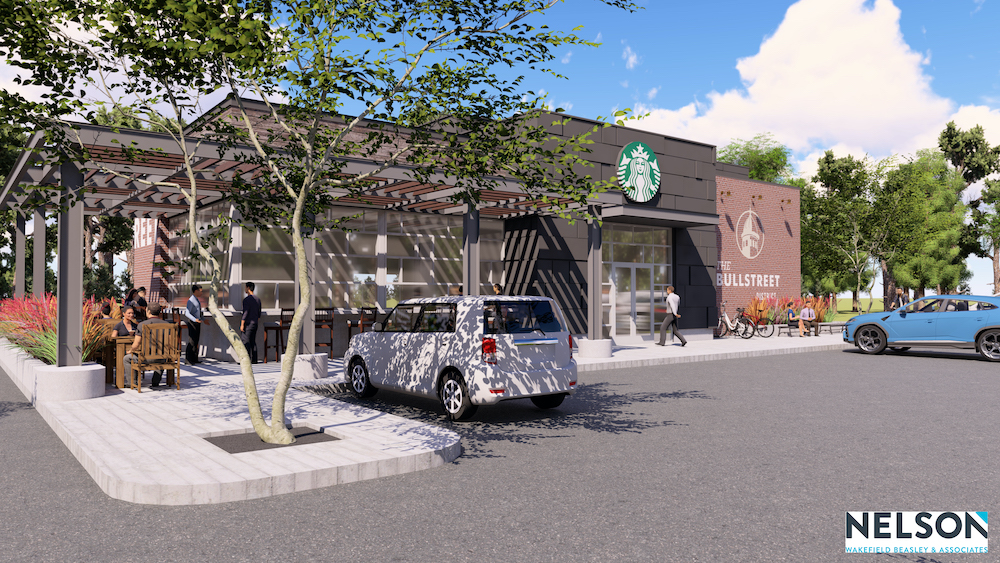 The Babcock Building Makes the News
The BullStreet District's iconic, 146,000 sq. ft. Babcock building, after decades of neglect, is being resurrected, with its future made public at the most recent BullStreet Commission meeting, held Oct. 28 at Columbia's City Hall.
Clachan Properties of Richmond, Virginia, one of the nation's most respected leaders in historic renovation, provided an estimated timeline for making the building — with its historic cupola — a premiere centerpiece with more than 200 apartments. Multiple news outlets including The State, Columbia Regional Business Report and The Post and Courier have published reports this week on the litany of details shared by the Clachan team.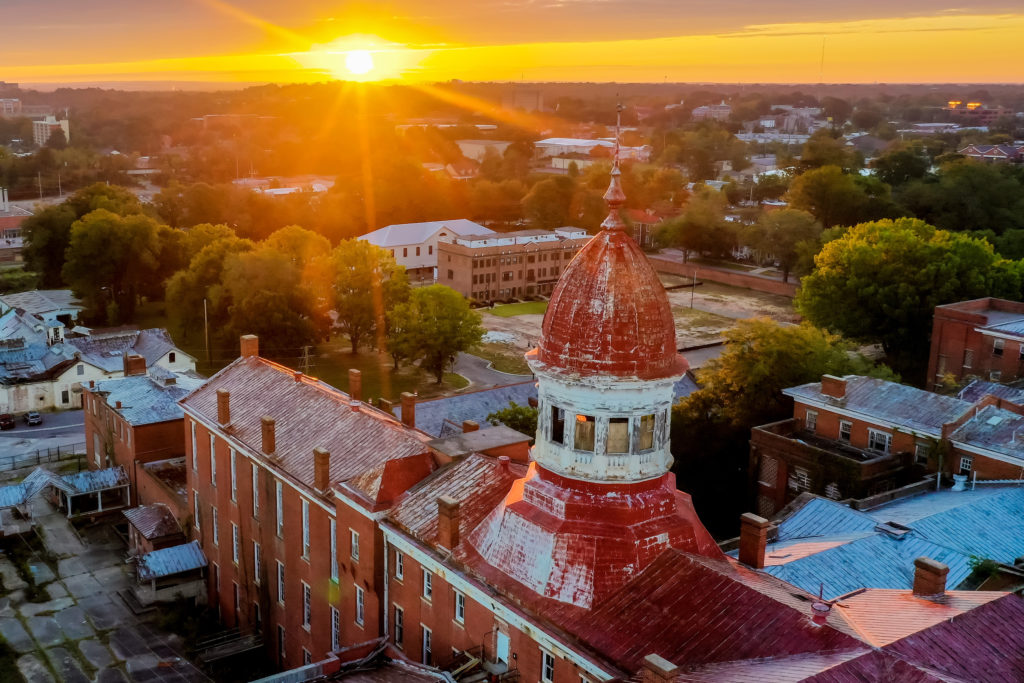 Built in phases, the estimate for completion of the luxury apartments is 2022. Tenants in the one-, two- and three-bedroom apartments will have access to a dog park, lounges, yoga studio, cardio studio, a large garden with grilling capabilities and an outdoor swimming pool. 38 trees across the Babcock grounds will be preserved, some of which are centuries-old live oaks.
Columbia City Councilman Howard Duvall called Babcock "a key to the project."
20-Acre Public Park Nears Completion, with Thousands of Tree Stakes
The 20-acre park, pond, picnic areas and trails are slated to be ready by spring of next year, with work on the irrigation system that will pave the way for landscaping. A welcome sight: the leafy, green tips of several thousand planted tree stakes are beginning to peek out above the ground, offering aesthetic value while contributing to offsite flood management. A thorough feature article on the park's storm water management features, including the daylighting of Smith Branch Creek, was recently published by the Post & Courier.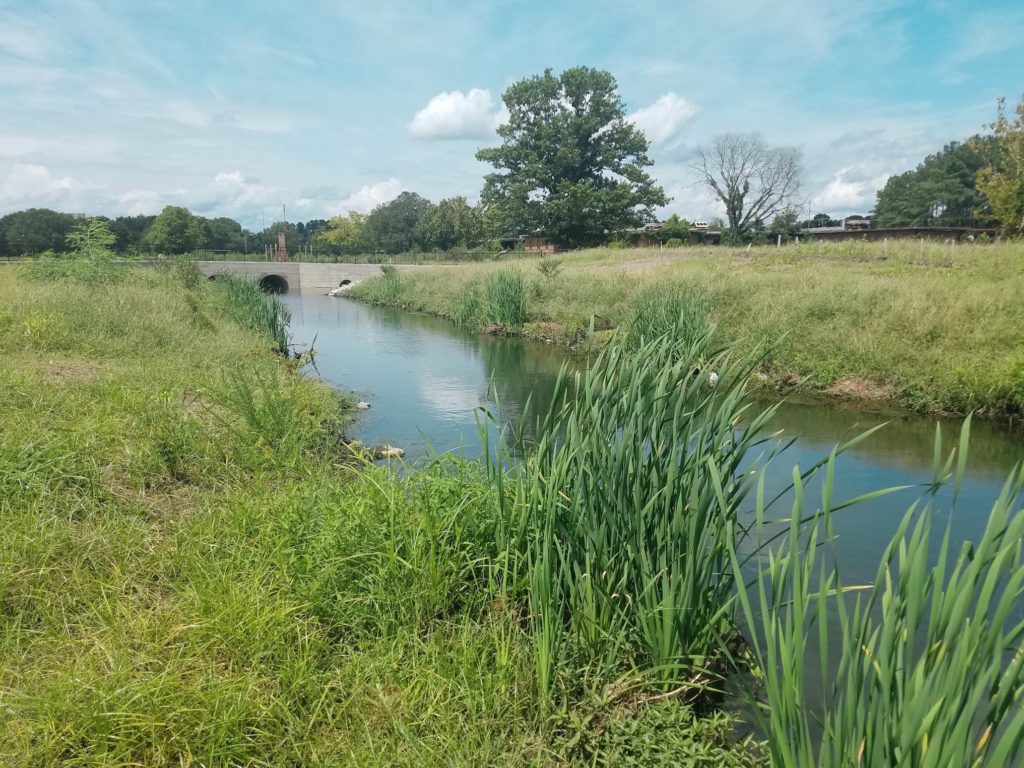 Work Has Begun for the University of South Carolina Health Sciences Center
Site clearing for the future University of South Carolina Health Sciences Center along Harden Street is underway.
Merrill Gardens: Nearing Completion
Merrill Gardens, BullStreet's new active senior community, will complete the installation of cabinetry and appliances inside of the residences, as well as hardscaping and landscaping for the exterior within the next few weeks. Merrill Gardens will have a rooftop deck and sports bar, 24-hour dining options and active wellness activities.
A New Tenant Will Move in Above Bone-In Barbeque at the Ensor Building
The historic Ensor Building, located right next door to Segra Park and home to the award-winning Bone-In Barbeque restaurant, is being prepped for the arrival of a new and exciting second floor tenant which will be announced shortly.
Party Season at Bone-In Barbeque: Family Orders, Tailgates, Private Parties and More
Meanwhile, Bone-In Barbeque — downtown Columbia's premier destination for BBQ, artisan cocktails and outdoor dining — is hosting regularly scheduled events, such as Debbieoke every Friday night with renowned singer and in-demand hipster KJ Debbie Adedokun. Tailgate and party-pick up orders, as well as private dining room and holiday party rentals, are here just in time for the season.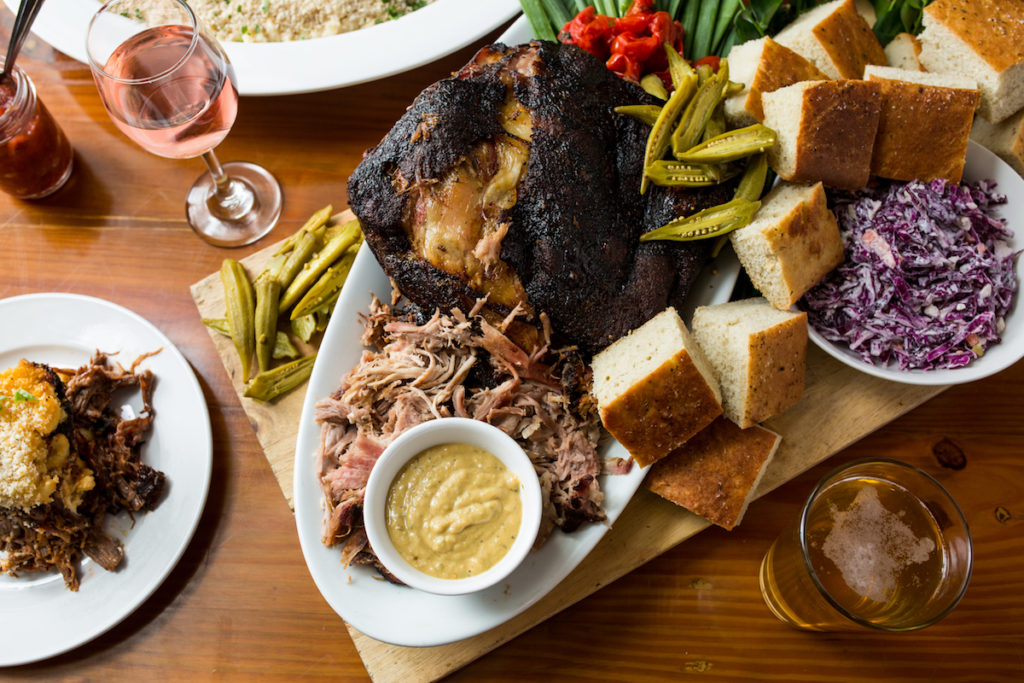 And Just Like That, BullStreet Has a Lot of Really Cool Event Venues
Across the BullStreet District, the public can enjoy a variety of events year-round, including networking events at SOCO; private dining events at Bone-In Barbeque; corporate banquets in Segra Park's club lounge; charity walks, vendor fairs and concerts at Segra Park; and of course, Columbia Fireflies baseball games.
A chic new choice for downtown fundraisers, receptions and weddings is the sleek, modern Central Energy, for which Garvin Design Group just received a prestigious AIA South Carolina Design Award for Adaptive Reuse/Historic Preservation.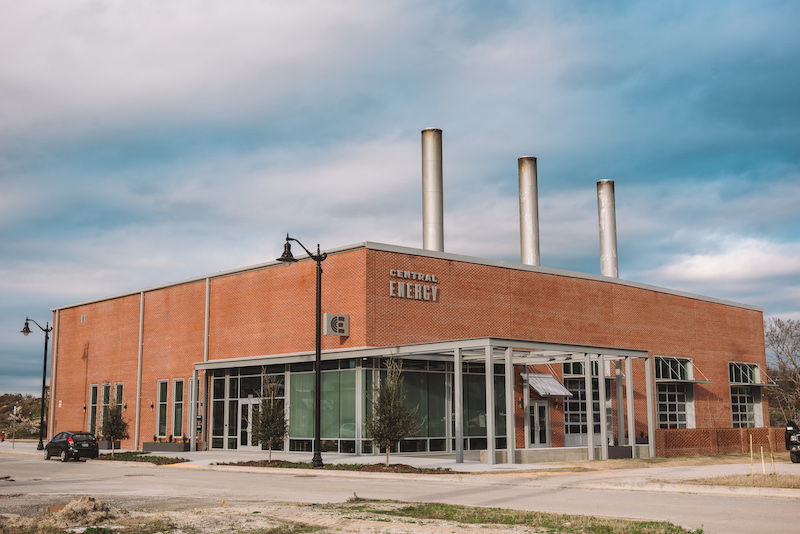 Ballpark of the Decade. 'Nuff Said.
Segra Park, the home of the Columbia Fireflies Minor League Baseball team, was recognized recently as one of Ballpark Digest's "BallPark of the Decade" honorees.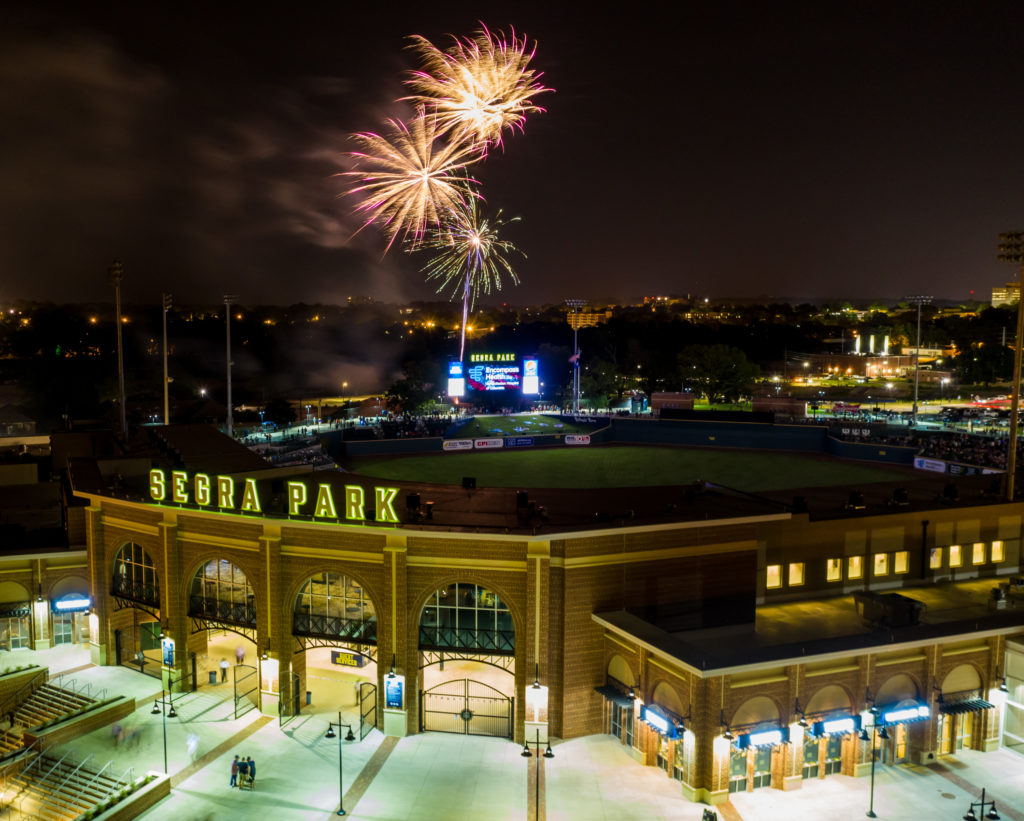 Sleeper Hit: TownPark Phase One is Sold Out
Meanwhile, the entire first phase of the TownPark at BullStreet townhomes has been sold, and construction is slated to begin on the next phase of the contemporary residences with contemporary finishes, roof decks and elevators. The Moore Company Real Estate is the broker for the project.
"If it seems like there's suddenly a lot going on in the BullStreet District, you are correct," notes Hughes. "There's always a lot going on, and it's that excitement that fuels our commitment to building this community. It's all about curating a solid mix of local and national retailers, beautiful residences, and outdoor recreation, as well as innovative businesses and impactful nonprofits that range from hyperlocal to absolutely global. We wouldn't have it any other way."
To learn more about what's happening across the BullStreet District, follow @BullStreetSC and #BullStreetSC on social media and visit https://bullstreetsc.com.
About the BullStreet District
Known as the largest urban redevelopment project on the East Coast, the BullStreet District is an active transformation of the historic, 181-acre South Carolina State Hospital campus into a vibrant, mixed-use lifestyle district that reflects the authenticity of downtown Columbia, S.C. The state's first urban gigabit community, BullStreet is a city-within-a-city, located one mile from the S.C. State House and anchored by the award-winning stadium, Segra Park (f.k.a. Spirit Communications Park), home of the Columbia Fireflies Minor League Baseball team. Well into a 20-year buildout that started in January 2015, the district already is home to an array of local and national businesses, including global tech giant Capgemini, Central Carolina Community Foundation, Founders Federal Credit Union and Ogletree Deakins law firm in the First Base Building; SOCO, COLAToday and tech/creative startups in the historic Bakery; Bone-In Barbeque restaurant in the historic Ensor Building; the S.C. Department of Natural Resources' Parker Annex Archaeology Center; the sleek, modern Central Energy event venue; and the new TownPark at BullStreet townhomes. A 20,000 sq. ft. REI Co-Op store is under construction, a Starbucks is on its way, and soon, the Merrill Gardens active senior community will welcome residents across the street from a new 20-acre public park, with a 2-acre pond, trails, dog park, restored creek and more. BullStreet contains 125,000+ square feet of commercial/office and retail space and is zoned for up to 3.3 million square feet of commercial use and 3,558 residential units. Follow @BullStreetSC and #BullStreetSC on Twitter, Instagram and Facebook, and learn more at https://bullstreetsc.com.