Opening date circled for new brewery, restaurant
By Chris Trainor | The State
The sights and sounds of progress were readily apparent Wednesday morning at the site of the coming Iron Hill Brewery & Restaurant in Columbia's BullStreet District.
Drills and power saws whirred inside what will be the dining room of the restaurant. Mechanical lifts carried workers up to the ceiling for wiring and other tasks. Forklifts and other heavy equipment beeped as they backed up and then lurched forward, carefully unloading brewing equipment from large trucks and into the under-development brewery.
It was a like a symphony conducted by an orchestra in hardhats. And in the middle of it all was Mark Edelson, Iron Hill's co-founder and vice president of beer. Edelson, who lives in Pennsylvania where Iron Hill is headquartered, was on site as the new restaurant's brewing equipment arrived. The BullStreet Iron Hill Brewery will be the company's 21st location across the U.S., and Edelson said the Columbia restaurant is aiming for a June 1 opening.
Edelson said the Iron Hill team is excited about landing in BullStreet. The brewery project has been years in the making at the development, having initially been announced in 2020. Addressed at 945 Sabal St., the brewery and restaurant is located on the northwest part of the sprawling, 181-acre development, fronting Bull Street. It's next door to the Starbucks coffee shop there.
"There is a lot of excitement here," Edelson said. "Every time I'm down here, people are really enthusiastic about the (BullStreet) project."
The Columbia Iron Hill will be 7,500-square feet with inside and outside seating for more than 400 people. There is a large, sweeping patio that faces out toward Bull Street, with big bay windows that open up to a bar where bartenders will be able to serve customers both outside on the patio and inside the restaurant.
Iron Hill will brew a number of its own house brand beers on-site. Some of its top sellers include the Philly Phavorite IPA, Pig Iron Porter, Sweet Leaf IPA and an offering called The Cannibal, which is a Belgian strong golden ale.
"We've been brewing beer for 27 years," Edelson said. "Each of our locations has a brewery. It's an important part of the vibe and the atmosphere of it. … We'll have about 16 beers on at any one time."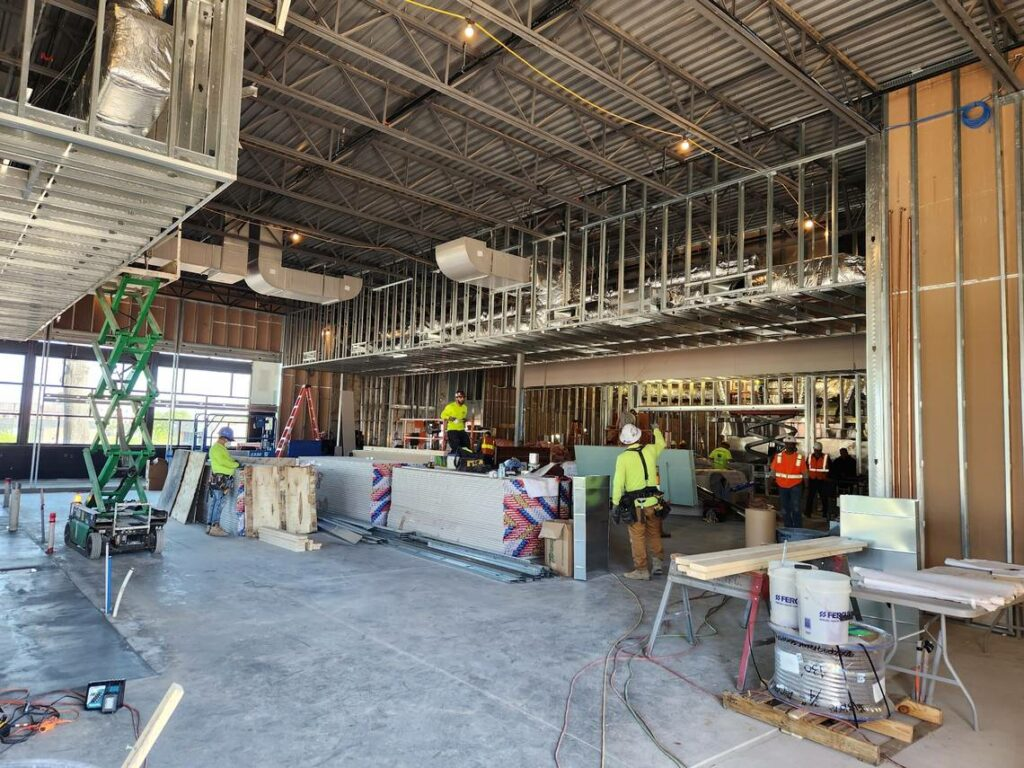 He noted there will be seasonal beers throughout the year, as well.
The company also has a robust food menu that will include burgers, Philly cheesesteak egg rolls, Baja-style fish tacos, Voodoo chicken pizza, fish and chips and much more.
Iron Hill will be arriving at a time when the BullStreet District, where the city of Columbia and Greenville's Hughes Development are shepherding an overhaul of the former State Mental Hospital site, is riding momentum. The Columbia Fireflies are beginning their season at nearby Segra Park on April 6, construction is well underway on the Bennet at BullStreet apartment complex just east of Iron Hill, and work continues to convert the historic Babcock Building into apartments. Some residents already are living at Babcock.
And last week Tupelo Honey Cafe, the Asheville-based chain known for its menu of Southern favorites, announced it would open a location at BullStreet in 2024.
"It is evident to us that (BullStreet) is a very important thing for the city," Edelson said. "There's a lot of talk about it, a lot of buzz about it and, we feel, a lot of support. Everything we are doing, from licensing and all of that, everybody has been great."
Iron Hill Brewery & Restaurant was founded in 1996 by Edelson, Kevin Finn and Kevin Davies. Its 21 restaurants are located across Pennsylvania, Delaware, New Jersey, Georgia and South Carolina, including a spot on Haywood Road in Greenville