New office building brings breath of fresh air to BullStreet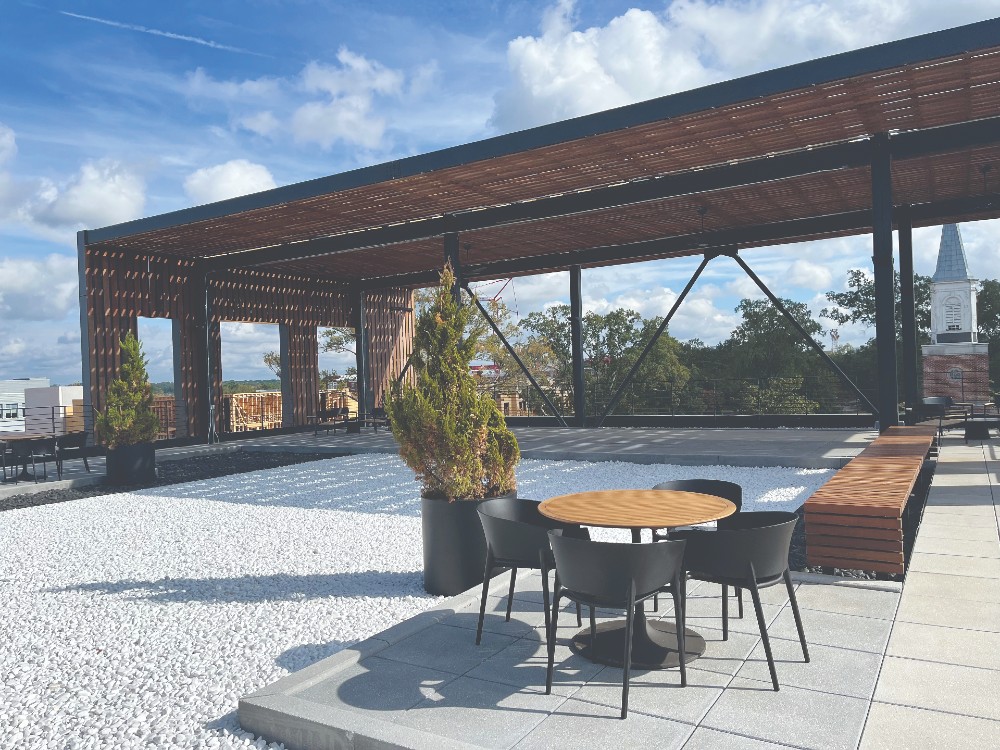 Melinda Waldrop — Columbia Regional Business Report
When Columbia law firm Robinson Gray needed a new space, it decided to do something completely different.
Having outgrown its offices in the R.L. Bryan Co. warehouse, built in 1913 in the Congaree Vista, the firm with area roots stretching back a century originally split into two locations. 
"When we began thinking about getting under one roof again, because we felt the need to pull everybody back together, we started looking around town to see how we could do that and have the next chapter," said Cal Watson, managing partner. "We looked at a lot of different things around town and none of them really spoke to us. There's not a lot available. And that's when we got in touch with the Hughes group."
The Hughes Development Corp., master developer of the 180-acre BullStreet District, was adding a new twist to the massive mixed-use development at the site of the former S.C. State Hospital. The WestLawn building, a 79,000-square-foot, five-story building, broke ground in March 2021 on a project like nothing Columbia had ever seen.
The first mass timber commercial building in the city and the largest of its kind in South Carolina, the WestLawn is designed to provide both form and function. It is constructed of cross-laminated timber, a renewable commercial building material invented in the 1990s that sequesters carbon and reduces reliance upon traditional construction materials such as concrete and steel as well as labor costs.
The first such building was built in Montana in 2011. At its groundbreaking, the WestLawn joined less than 400 commercial mass timber buildings in the U.S., according to Hughes Development. As of September 2022, 1,571 mass timber commercial, multifamily or institutional buildings had been constructed or were in design in all 50 states, according to woodworks.org.
Renato Tonelli, senior project architect at WestLawn architecture firm Perkins&Will, said in a promotional video on Robinson Gray's website that the building industry contributes a third of the carbon emissions in the world. Mass timber construction is designed to reduce that footprint while also offering distinctive touches that make the attorneys at WestLawn and their clients feel right at home.
Robinson Gray settled into more than 29,000 square feet on the building's top two floors at the beginning of September. Ten-foot, floor-to-ceiling windows maximize natural light, while elevators and stairways on the side of the building leave an open floor plan.
The fifth floor features a cafe with individual booths equipped with Wi-Fi enabled TV screens and a rooftop terrace overlooking Columbia and the ongoing progress at BullStreet. The fourth floor houses attorney, administrative and paralegal offices — open spaces with privacy features such as pull-down screens that flow into a design Watson calls seamless.
"We want to provide a space that is conducive to collaboration and working together," Watson said.
Design details include curved walls and a color palette of greens, blues and browns that pay homage to Columbia's rivers, while steel accents are a nod to the city's railroads.
"Our design team was really inspired by Robinson Gray's passion for the city of Columbia," Ike Lowry, Perkins&Will senior interior project designer, said in the video. The firm drew inspiration from early city planning diagrams emphasizing the "extreme order" of the city's grid layout, he said.
The Wi-Fi-equipped rooftop terrace includes a trellis which will shade a large outdoor conference table when the remainder of the outdoor furniture arrives, Watson said. The terrace overlooks the former hospital chapel, being renovated into a food hall, with Segra Park, home of the Columbia Fireflies, stretching off to the left.
Back inside, knotted pine walls connect banks of glass windows at the back of the building, and "collaboration corners" provide small gathering spaces. On the fourth floor, two reading nooks face the sun, with cozy chairs and shelves of law books offer an inviting research space.
Such details were discussed during a Robinson Gray retreat attended by Perkins&Will architects early in the design process, said Irene Vogelsong, Perkins&Will associate principal.
"By really investing the time initially in the process, we were able to identify our goals, get ahead of any potential risks, and truly design a space that was both intentional and tailored to Robinson Gray's mission," Vogelsong said.
The result is an eye-catching structure with details that emphasize connectivity.
"It's a neat, cool, innovation modern workspace, but it's not luxurious," Watson said. "It's very practical and it emphasizes the things that we want to emphasize, which are community and efficiency and collaboration and interfacing with each other and our clients.
"This is not elaborate. It's very simple. It's just really cool."
Reach Melinda Waldrop at 803-726-7542.