Iron Hill Brewery & Restaurant Expands to S.C. in the BullStreet District
Wilmington, DE – (March 5, 2020) – Iron Hill Brewery & Restaurant (Iron Hill) announced today they have recently signed a lease in the BullStreet District in downtown Columbia, SC, marking their fourth location in the South and 21st overall for the award-winning restaurant group. Additional southern locations include Greenville, SC [741 Haywood Road], which opened with great fanfare in spring 2018, as well as the Buckhead [3535 Peachtree Road NE] and Perimeter [1224 Hammond Dr] neighborhoods of Atlanta, GA — both slated to open summer 2020 as part of their "20 by 20" initiative, in which Iron Hill planned and reached their goal to open and operate 20 locations by the year 2020. Iron Hill Columbia is slated to open in summer 2021.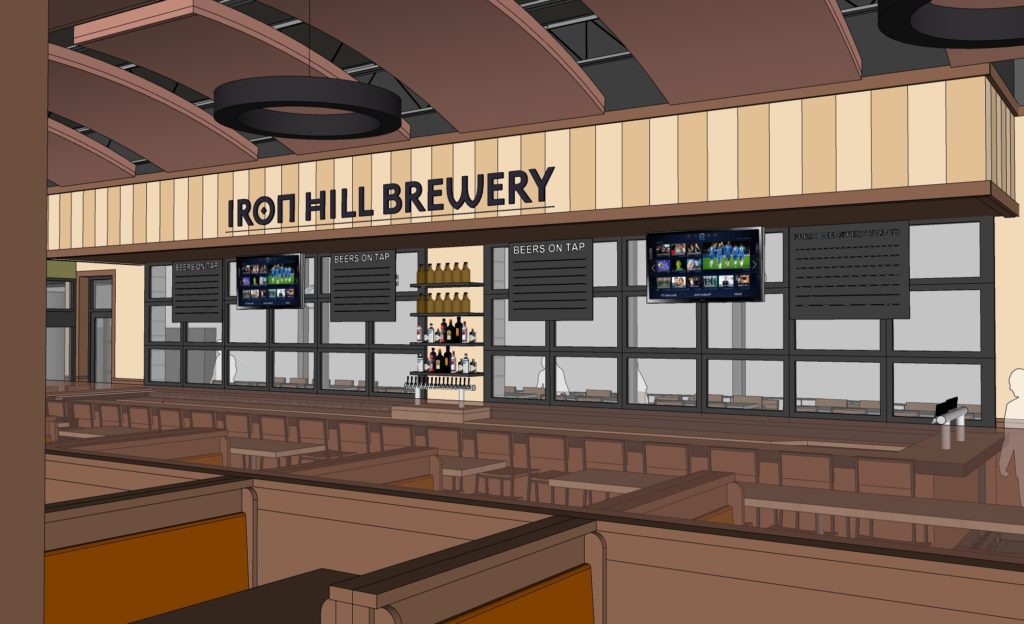 The New York Times called the 181-acre BullStreet District, now five years into a 20-year development timeline, "one of the largest downtown mixed-use real estate projects in the nation."
The 7.500 sq. ft. Iron Hill Brewery & Restaurant will feature Iron Hill's signature on-site brewing facility, with seating for approximately 250, which includes a bar area, dining room, and outdoor dining space. Slated for new construction on Bull Street, where 42,000 cars pass daily, the space will be across from Starbucks (breaking ground this spring) and near the REI Co-op store (slated to open in 2020). The new brewery and restaurant plans to bring over 100 full and part-time jobs to the community.
Following the success of Iron Hill Greenville and the expansion of two additional craft breweries in the South, the BullStreet District, and all the area had to offer, was a natural fit for the Iron Hill team. "We are extremely excited to continue our success in the South," said Kevin Finn, Chairman of the Board and Director of Development at Iron Hill Brewery & Restaurant. "Once we came to South Carolina and learned firsthand about the warmth, charm, and hospitality of its residents, we knew we wanted to bring more of the great food, quality service and delicious craft beer we've brought our fans in the Northeast since 1996. BullStreet is a thriving, newly-developed area, and given its residential, office, retail and entertainment appeal, in addition to its proximity to multiple universities and colleges, we knew this neighborhood was a great choice for us."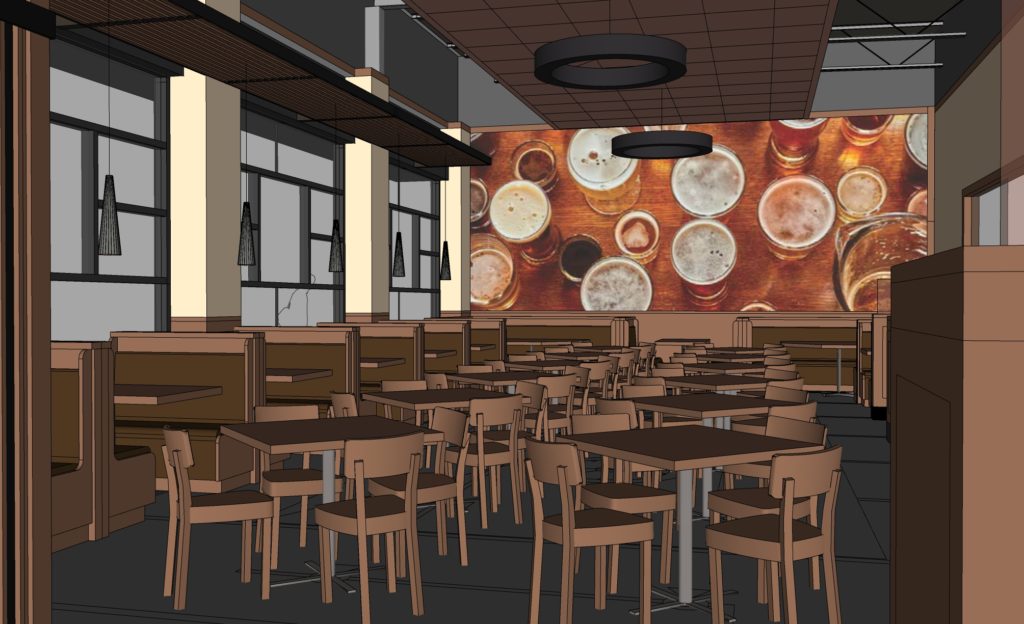 The brewery and restaurant, located one mile from the University of South Carolina campus and the S.C. State House, will be within walking distance of multiple historic neighborhoods and large employers.
Iron Hill will once again partner with Bray Architecture to design the brewery and restaurant to reflect the modern color palette and welcoming floor plan of their newest location. Additionally, Iron Hill will partner with McMillan Pazdan Smith Architecture for the base architecture of the location.
"Iron Hill Brewery and Restaurant is an American success story of how three friends with a great idea made it happen," said Robert Hughes, President of Hughes Development Corporation. "We're thrilled that they picked Columbia and BullStreet as their third southern city in which to locate. They'll fit right in."
Site Map of BullStreet District found here.
Iron Hill Brewery & Restaurant images found here.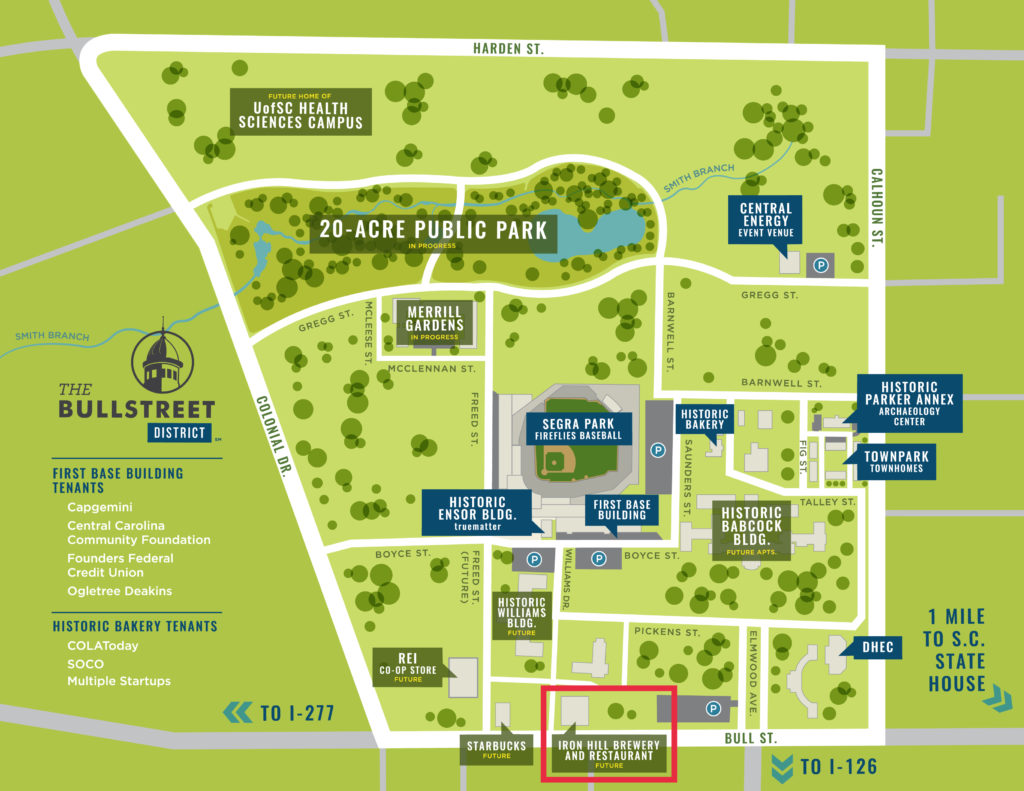 About Iron Hill
Named after the historic Revolutionary War landmark in Delaware, where General George Washington battled the British, Iron Hill is among the most enduringly successful craft brewers in the United States, with over 20 years of award-winning recognition at national and international competitions.
Founded by home brewers Kevin Finn, Mark Edelson and restaurateur Kevin Davies in Newark, DE in 1996, Iron Hill Brewery & Restaurant has blossomed from one restaurant and brewery to 16 locations up and down the East Coast, including Pennsylvania, Delaware, New Jersey, and South Carolina. Each brewery/restaurant has its own scratch kitchen and craft brewery, allowing individual chefs and brewers the creativity to pair the freshest ingredients with the highest quality grains and hops. For 23 years, Iron Hill has incorporated beer in everything they do. As a result, Finn, Edelson, and Davies are viewed as innovative business leaders in their home state of Delaware and in the Mid-Atlantic region. They started Iron Hill at a time when small breweries were just beginning to gain mass appeal around the country and their entrepreneurial, forward-thinking helped build them into what they are to date. Each individual location has its own head brewer. Each location dedicates itself to the freshest ingredients and friendly atmosphere for all age groups – helping change overall perceptions about brewpubs one meal, one pint, one community at a time.
Locations
Newark, DE (147 East Main Street, 302-266-9000); Wilmington, DE (620 Justison Street, 302-472-2739); Media, PA (30 East State Street, 610-627-9000); West Chester, PA (3 West Gay Street, 610-738-9600); North Wales, PA (1460 Bethlehem Pike, 267-708-2000); Phoenixville, PA (130 East Bridge Street, 610-983-9333); Lancaster, PA (781 Harrisburg Pike, 717-291-9800); Maple Shade, NJ (124 East Kings Highway, 856-273-0300); Voorhees, NJ (13107 Town Center Boulevard, 856-545-9009); Chestnut Hill, PA (8400 Germantown Avenue, 215-948-5600); Ardmore, PA (60 Greenfield Avenue, 610-228-2280); and Huntingdon Valley, PA (785 Huntingdon Pike, 610-602-9255); Greenville, SC (741 Haywood Rd. 864-568-7009); Rehoboth Beach, DE (19815 Coastal Highway, 302-260-8000), Philadelphia, PA (1150 Market Street, 267-507-7365) and Hershey, PA (101 West Chocolate Avenue, 717-312-5164), Newtown, PA opening Spring 2020, Atlanta- Buckhead, GA opening Summer 2020, Exton, PA opening Summer 2020, Atlanta – Perimeter, GA opening Summer 2020, Columbia, SC opening Summer 2021.
About the BullStreet District
Known as the largest urban redevelopment project on the East Coast, the BullStreet District is an active transformation of the historic, 181-acre South Carolina State Hospital campus into a vibrant, mixed-use lifestyle district that reflects the authenticity of downtown Columbia, S.C. The state's first urban gigabit community, BullStreet is a city-within-a-city, located one mile from the S.C. State House and anchored by the award-winning stadium, Segra Park, home of the Columbia Fireflies Minor League Baseball team. Well into a 20-year buildout that started in January 2015, the district already is home to an array of local and national businesses, including outdoor retailer REI Co-op; global tech giant Capgemini, Central Carolina Community Foundation, Founders Federal Credit Union and Ogletree Deakins law firm in the First Base Building; SOCO, COLAToday, and tech/creative startups in the historic Bakery; tech firm truematter in the historic Ensor Building; the S.C. Department of Natural Resources' Parker Annex Archaeology Center; the sleek, modern Central Energy event venue; the new TownPark at BullStreet townhomes, and the upcoming Starbucks retail store and drive-through. Soon, the Merrill Gardens active senior community will open across the street from a new 20-acre public park, with a 2-acre pond, trails, dog park, restored creek and more. BullStreet contains 125,000+ square feet of commercial/office and retail space and is zoned for up to 3.3 million square feet of commercial use and 3,558 residential units. Follow @BullStreetSC and #BullStreetSC on Twitter, Instagram, and Facebook, and learn more at https://bullstreetsc.com.