Couple among growing group of BullStreet residents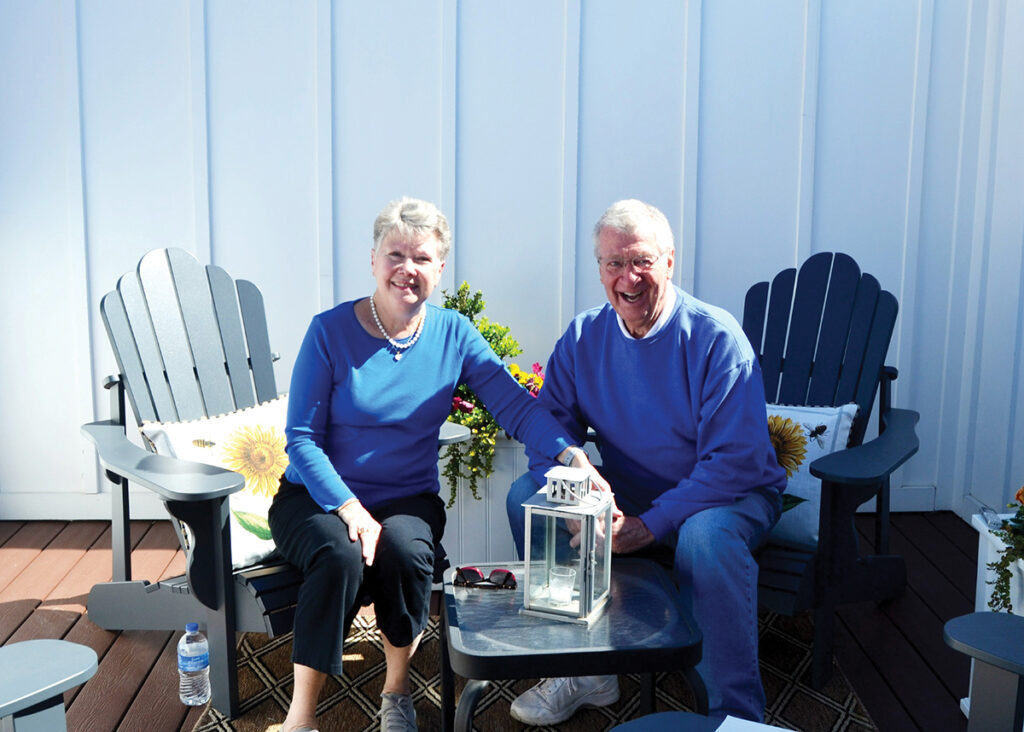 By Melinda Waldrop, Columbia Regional Business Report
Columbia, S.C. (March 14, 2022) — Jim and JoAnn Ryan have visited 113 countries, been on four world cruises and traveled to all seven continents, including Antarctica.
When the couple found themselves considering a permanent change in location, however, they chose one of the newest and most distinctive residential options in Columbia.
The Ryans, who met on a blind date and have been married for 42 years, moved from Hilton Head Island into Phase II of TownPark at BullStreet last July. The globetrotting duo are as content as they've ever been.
"When we ventured to Columbia, it was kind of like Goldilocks," JoAnn Ryan said. "It seemed to be just right."
The Ryans spent nearly 20 years in a house they built in Hilton Head after moving from Atlanta, where they also lived for two decades. They downsized to a condo for four and a half years but spent much of their time traveling.
When the pandemic curbed their wanderlust, they began to think about making a change.
"When COVID came, I think just like a lot of people in the United States, you really started re-evaluating your life, and you thought … well, maybe there would be something else fun for us to do," JoAnn said. "And we always thought that we wanted to live in downtown."
After dismissing Charlotte as too big, Greenville as a bit pricey and Charleston as too expensive, touristy and prone to hurricane threats, the Ryans stopped in Columbia while on yet another trip.
Jim Ryan was struck by the city's easy-to-navigate street grid, and when the couple walked out of the downtown Marriott, they found Main Street — "pretty as anything in Greenville," Jim said — steps away.
A Google search turned up the TownPark development, marketed by Columbia-based The Moore Co. What would become their 1,800-square-foot home had four features they wanted: a private garage, a walk-in shower, a gas stove and the rooftop deck extending from Jim's third-floor office.
"The size of the town, a new townhouse, all of the activities that the university provides, a nice museum, a zoo — there's just something to do all the time," JoAnn said. "We made the decision pretty quick to move, and it just felt right the whole time. Now we absolutely have fallen in love with Columbia, and we think it is wonderful."
A phone negotiation with Moore Co. owner Graeme Moore, completed despite spotty reception as the Ryans drove the Blue Ridge Parkway, sealed the deal. The couple are now part of growing density at the 181-acre, mixed-use development at the site of the former S.C. State Hospital, zoned for 3,558 residential units.
"The progress has been incredible over the past 24 months," Moore said. "With Babcock nearing its opening, and with everything else in the works, activity has really picked up."
Phases 1-3 of TownPark are sold out, Moore said, with Phase 4 well on its way at 80% sold as construction begins.
"The interest has been incredible over the past two to three months, and I expect that'll continue," Moore said.
Upon arrival, newer owners can experience the amenities that attracted the Ryans, who walk the Segra Park concourse daily, enjoy post-game fireworks from their rooftop deck and eagerly await the opening of planned dining options such as Iron Hill Brewery and Restaurant.
The Ryans don't mind being in the midst of BullStreet's ongoing buildout. JoAnn Ryan worked in apartment development and management in Atlanta, while Jim was a member of the U.S. Naval Construction Battalions, better known as Navy Seabees. That experience has led to one BullStreet project contractor offering him a job, Jim said with a laugh.
"We both have a great deal of interest in construction, so this to us is just so fascinating to watch what all is going on," JoAnn said.
This article first appeared in the March 14 print edition of the Columbia Regional Business Report.