Booming BullStreet hitting construction throttle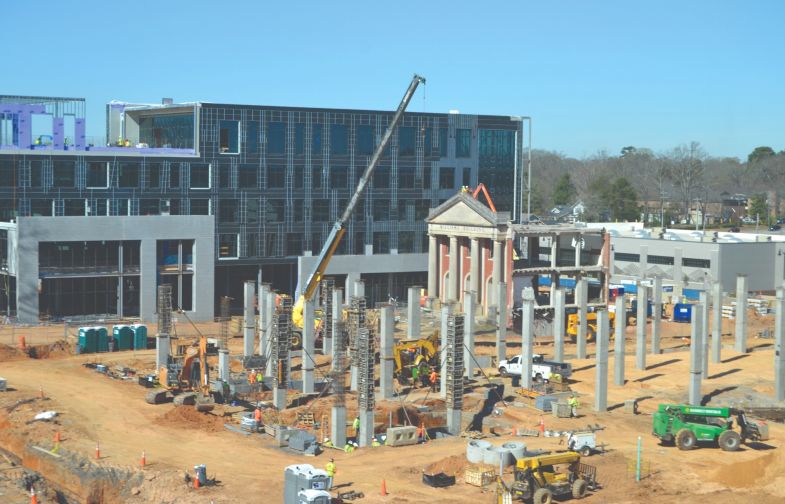 By Melinda Waldrop, Columbia Regional Business Report
Columbia, S.C. (March 24, 2022) — Eighteen months after a fire threatened its existence, the renovated Babcock Building will welcome its first residents next month.
A 14-unit portion of the planned $55 million, 208-unit luxury apartment complex at the 254,000-square-foot building, which formerly housed S.C. State Hospital patients, will open the first week in April.
Other sections of the building, which featured two dining halls and included 12 connected buildings, will open during the next year, said Hugh Shytle, co-founder and president of Richmond, Va.-based developer Clachan Properties.
The luxury apartments at The Babcock, ranging from one to three bedrooms, feature more than 100 different floor plans.
"This building is massive and Byzantine and very complicated, so it's been a challenge the whole way," Shytle said. "The fire just added another element."
The anxiety after first learning of the September 2020 fire that destroyed the Babcock Building's iconic cupola was soon replaced by relief when it became apparent that firefighters had contained the damage to a sturdily built middle section.
"We were terrified," Shytle said. "The initial reports we got were that it was a devastating blow, and we really were quite concerned that we had lost so much historic fabric that an adaptive reuse project couldn't get done. … But we hadn't lost so much fabric that we couldn't put it back together."
The Babcock Building's transformation is the largest and most visible piece of a rapidly transforming BullStreet District, the 181-acre, mixed-use site of the state's former mental hospital. The rumble of heavy equipment pings off the spines of steel skeletons rising from the ground all over the urban campus seven years into what Greenville-based master developer Hughes Development Corp. initially envisioned as a 20-year buildout.
"BullStreet is a project that builds on itself," said Chandler Cox, Hughes Development project manager. "There were projects early on, when we first started construction in 2015, and they've slowly all built on themselves. You feel the density that's coming together. You're really just starting to see the vision of BullStreet."
Other residential projects underway include the 269-unit, two-block Bennet at BullStreet, slated to open next year. The 120 units at Merrill Gardens are filling up, with potted plants and gliders now decorating balconies. And TownPark at BullStreet, with a total of 28 planned townhouses, has started construction on Phase 4 after selling out phases 1-3.
On the retail side, the WestLawn building, which celebrated its groundbreaking last March, has now taken timber-and-steel shape. Iron Hill Brewing and Restaurant is on track to open next year. Publico is planning a second location inside the Ensor Building, Sanctuary Food Hall is slated to occupy the Chapel of Hope and the Laundry Building is being refurbished for a future retail tenant.
The Williams Building is slated for use as a public space, while the 650-space Freed Street parking garage opened for March 5's baseball game pitting rivals South Carolina and Clemson. A second parking garage is nearing completion, and a third entrance to BullStreet, at Bull Street and Elmwood Avenue, is being finished with funds from Richland County's Penny Tax Program.
And not to worry. The cupola that greeted motorists approaching that intersection will return, likely in 2023, Shytle said.
"We've been working on this project for about five years and a lot has happened, both good and bad, at BullStreet in the five-year period," he said. "We've gone through a pandemic, etc., but there's just a lot of traction at BullStreet right now. We think we're hitting it at the right time."