Bone-In Barbeque at BullStreet Celebrates Successful First Summer with Mayor Steve Benjamin and Dignitaries
Owner and chef Scott Hall celebrates successful first 3 months and official launch of lunch service, family pick-up orders and catering at Bone-In Barbeque restaurant in the BullStreet District
[Photos below]
Scott Hall, owner and chef of Bone-In Barbeque, downtown Columbia, South Carolina's premier destination for barbeque, cocktails and eclectic Southern cuisine, hosted a ribbon cutting on July 30, 2018 with Mayor Steve Benjamin and other dignitaries to celebrate a successful first three months as the BullStreet District's first restaurant. Now officially out of its "soft opening" period, Bone-In Barbeque offers its high-quality, chef-driven fare in a relaxed, casual atmosphere during lunch and dinner, as well as family pick-up orders, private events, catering and more. View menus at http://www.boneinbarbeque.com.
Remarks were given by Columbia Mayor Steve Benjamin; former Columbia Mayor Bob Coble; Robert Hughes, president of Hughes Development Corporation (HDC) and master developer of the BullStreet District; and Chandler Cox, HDC's project manager for the BullStreet District. Chef/owner Scott Hall thanked his parents, his family, his team and his customers before joining Mayor Benjamin to cut the bright red ribbon stretched across the dining room.
The ceremony was followed by a reception with nibbles and sips from the Bone-In Barbeque menu, and guests were given an opportunity to explore the new 3,600 square-foot restaurant, which includes an airy, relaxed dining room, long wooden bar (handcrafted by Hall and his father), a private dining room for 15-40 guests, and a large, dog-friendly outdoor patio overlooking the entrance plaza to Spirit Communications Park, home of the Columbia Fireflies baseball team.
"We love being next door to the stadium, and we're proud to offer complimentary valet parking for our guests on baseball game days," notes Bone-In Barbeque chef/owner Scott Hall. "Guests can just let parking staff know that they're coming to dine here. The intersection of Barnwell and Calhoun is a great route."
Bone-In Barbeque serves lunch Tues. through Fri. from 11:30 a.m. to 2:00 p.m. The lunch menu features a variety of options from Chef Hall's dinner menu — from the signature bone chips to the Carolina classic BBQ plate — as well as dishes like a Carolina cobb salad topped with pickled tomatoes and smoked succotash, with a choice of proteins. Dinner is served Tues. through Sat. from 4:00 p.m. to 9:00 p.m., with happy hour from 4:00 p.m. to 7:00 p.m. View menus here: https://www.boneinbarbeque.com/menus/.
"Now that we're serving lunch Tuesday through Friday, along with happy hour and dinner Tuesday through Saturday, we're really enjoying the downtown lunch crowd," adds Hall. "There are just so many people working within a one-mile radius, from state agencies to Palmetto Health to law firms in the historic district nearby, as well as the Main Street District and the NOMA corridor, and it's been great to see old friends and make new ones each day."
Family Pick-Up Orders
Bone-In Barbeque brings a new way to enjoy barbeque to the table — literally. Family-size pick-up orders are available with at least 24 hours' notice for a sizable menu of fan favorites like 14-hour smoked pulled pork BBQ by the pound, hickory-hoisin lacquered St. Louis ribs, fresh-baked focaccia, pans of brisket mac and cheese, deviled collards, smoked banana pudding and more: https://www.boneinbarbeque.com/family-pick-up-orders/.
Private Dining Room for Events
A private dining room with a sliding barn door for additional privacy is available for parties of 15 to 40: https://www.boneinbarbeque.com/private-events/.
Bone-In Barbeque Catering
Catering for large and small-scale events is offered through Bone-In Barbeque and Scott Hall Catering for events like graduations, reunions, office parties, Lowcountry boils and more: https://www.boneinbarbeque.com/catering/.
A Menu that Goes Beyond the Meat-and-Three
The menu at Bone-In Barbeque features fan favorites such as Hall's iconic 14-hour smoked pulled pork on scratch-made focaccia buns or on a Carolina BBQ plate; hickory-hoisin lacquered St. Louis style ribs with salt and vinegar fried Brussels sprouts; the wildly popular brisket stuffed mac & cheese with arugula salad; beer-battered catfish with jalapeno remy and deviled collards; vegan pulled jackfruit on corn arepas with smoked succotash; substantial salads; and starters like fresh-fried Bone Chips smothered in smoked brisket chili with pimento cheese and beer fondue, crumbled blue cheese, sliced banana peppers and pickled onions. Hall's signature pimento cheese, pickles, charcuterie and more are on the menu as well. A number of items are vegan, vegetarian or can be modified for various dietary needs.
Background on Bone-In Barbeque
Bone-In Barbeque's 14-hour smoked meats and inventive, scratch-made Southern menu items were inspired by Hall's former food truck, Bone-In Artisan BBQ on Wheels — one of the region's first high-concept food trucks and a recipient of national media attention via the Cooking Channel, GQ magazine and more. After a decade cooking in New York City, Hall returned home to the Midlands in the late 2000s to help manage his family's event venue, Corley Mill House & Garden, and to launch his food truck and his eponymous company, Scott Hall Catering. Encouraged by the long success of his catering company – popular with major corporations and private clients alike – as well as the avid following generated by his mobile food operation, Hall traded in the truck and hosted the soft opening of his first brick-and-mortar restaurant, Bone-In Barbeque, on April 27, 2018.
Bone-In Barbeque is located at 2180 Boyce Street, Columbia, SC 29201. The phone number for the restaurant, catering and family pick-up orders is 803-728-7512. For more information, visit http://www.boneinbarbeque.com and follow @BoneInBBQSC and the hashtag #BoneInBBQSC on Facebook, Instagram and Twitter.
About Bone-In Barbeque
Bone-In Barbeque is the premier barbeque and Southern eclectic dining experience in Columbia, S.C., independently owned by Chef Scott Hall, a Midlands native who practiced in New York City kitchens and has appeared on the Cooking Channel, Bravo, the Travel Channel and in GQ and Smithsonian magazines. Located in the historic Ensor building, with a spacious outdoor patio extending onto the entrance plaza of Spirit Communications Park in the BullStreet District, Bone-In Barbeque is not your standard meat-and-three BBQ joint. The restaurant offers a casual menu of scratch-made recipes focused on high-quality ingredients and conscientious cooking techniques, with a formidable cocktail program, 14-hour smoked meats, house-baked breads, and housemade charcuterie and desserts at a remarkably accessible price point in a relaxed, welcoming environment. For more information, visit www.boneinbarbeque.com.
About the BullStreet District
The BullStreet District is a 20-year, 181-acre project to transform the historic S.C. State Hospital site into a vibrant, mixed-use neighborhood district in downtown Columbia, S.C. The state's first urban gigabit community, BullStreet is home to the award-winning Spirit Communications Park, home of the Columbia Fireflies baseball team. Located one mile from the S.C. State House, the BullStreet District is home to Ogletree Deakins law firm; global tech giant Capgemini; Founders Federal Credit Union; Bone-In Barbeque restaurant; the future Merrill Gardens senior living community; the TownPark at BullStreet townhomes; the S.C. Dept. of Natural Resources' Parker Annex Archaeology Center; the SOCO cowork and event space; the Central Energy Facility, future home of Downtown Church; and the future new UofSC Health Sciences Campus. A 20-acre public park with a dog park, trails, and pond is under construction, restoring 2,000 feet of natural habitat along Smith Branch Creek, helping to mitigate flooding downstream. BullStreet contains 125,000+ square feet of commercial/office and retail space and is zoned for up to 3.3 million square feet of commercial use and 3,553 residential units. Follow @BullStreetSC on Twitter, Instagram and Facebook, and learn more at https://bullstreetsc.com.
Photos: Forrest Clonts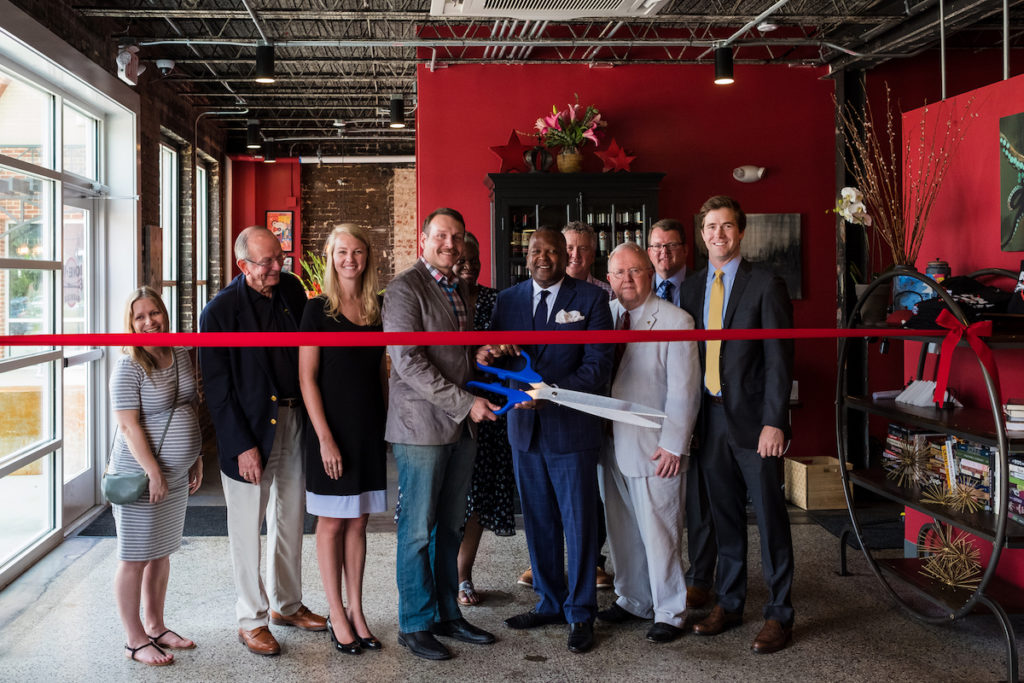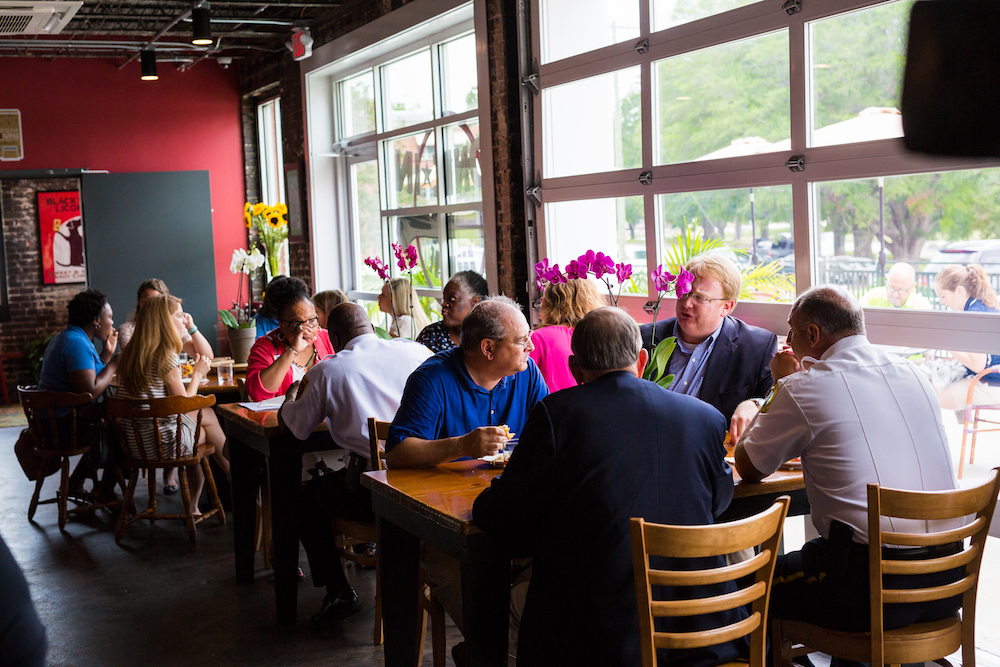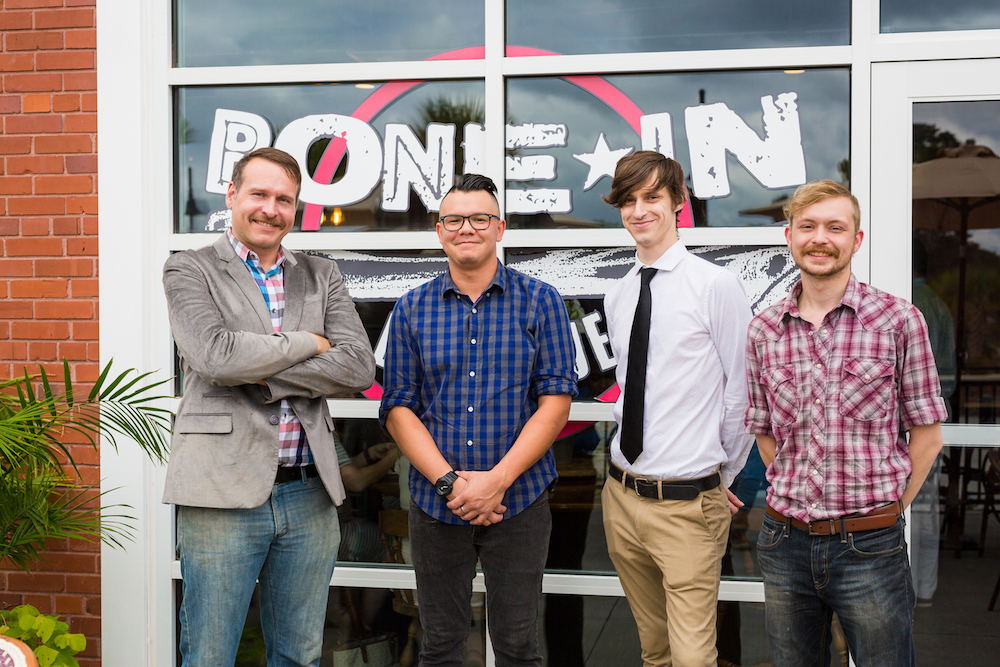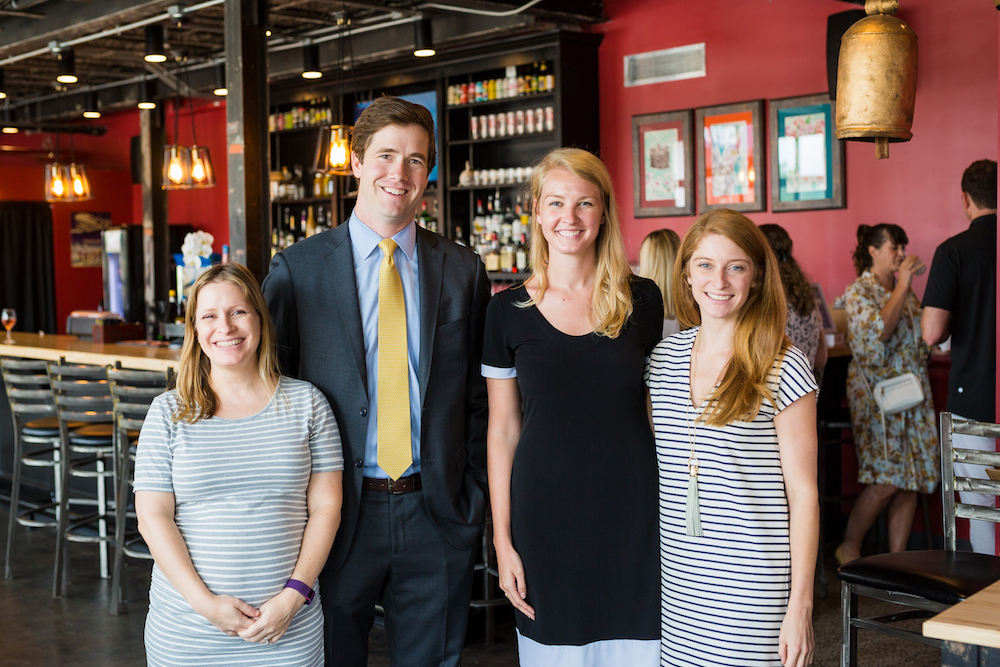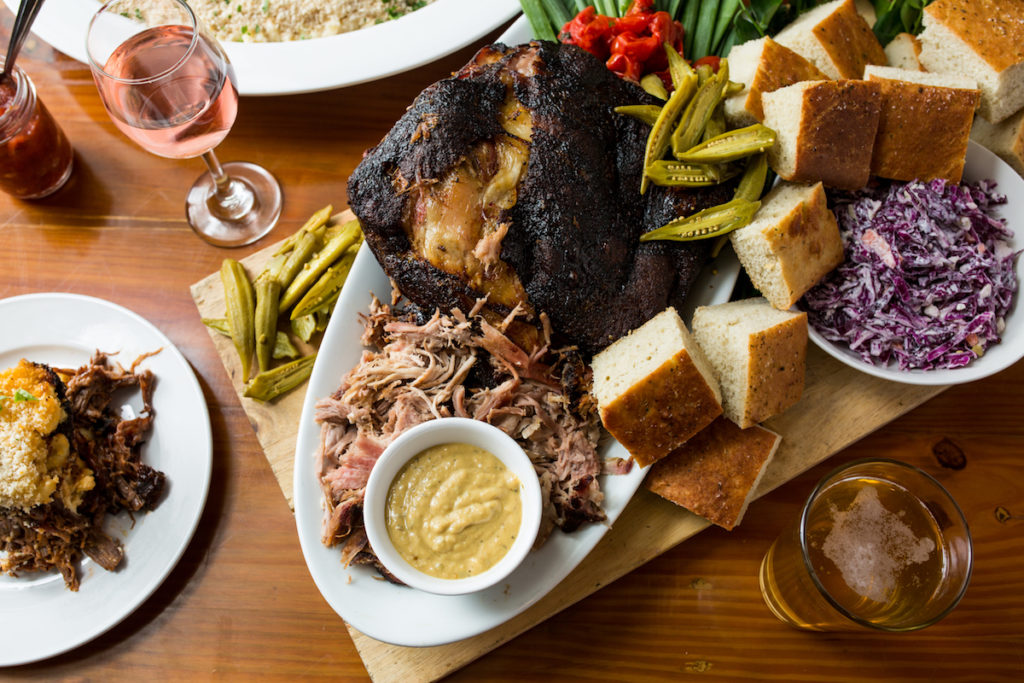 \